Bijan's is another restaurant located on Hillcroft. The area is very heavily influenced by Middle Eastern and Arab natives. Thus most of the good restaurants for this type of cuisine are over here.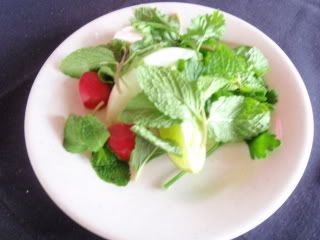 Bijan is one that we found online and decided to try based on reviews. The restaurant sign is very noticeable compared to most of the restaurants in the area. It has a more professional look to it. Upon sitting down we are given fresh pita bread along with a plate containing fresh onion, parsley, radish, and mint.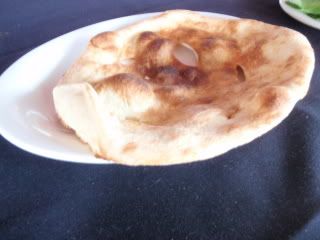 The bread is extremely good and I would probably go so far as to say the best pita bread I have ever had. It comes off hot and is made in house. The bread is a solid 8.5 and is all you can eat.
We decided to go with the standard of all middle eastern restaurants and try the hummus. It couldn't have been anything else as David is on this massive hummus kick and eats it at every opportunity.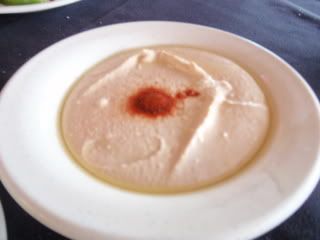 The hummus had a very thick texture and the tahini was very noticeable in the flavor. The only problem was aside from chick peas and tahini there wasn't much else going on. Generally in good hummus you will see either lemon juice/zest, garlic, etc. This didn't really have much flavor. It was ok and a solid 6, but we've had better at most restaurants we've been too.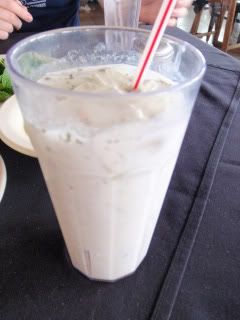 As always I decide to be adventuresome and try a drink known as doogh. The description given by the waiter is that it is a yogurt drink with mint and very salty. I can tell by his face that he doesn't think I will like it. He is right. This is the worst drink I have ever had in my life. Think semi curdled milk with green floating in it. I tried a sip and could not get myself to really drink much more. I can't rate this because I don't know if it was made well or not but I would NEVER EVER order this again.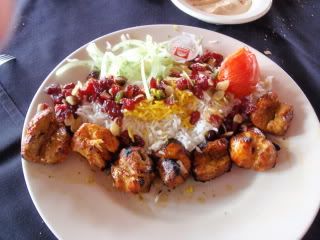 We go with waiter recommendations and David orders the Bijan special skewer of chicken and beef chenjeh with sour cherry, cranberry, almond, and pistachio rice.
His rice is excellent in the combination of flavors is very refreshing and palatable. I really enjoyed the rice tremendously and could have eaten a whole bowl of it. His chicken kabob was a little on the dry side, but had excellent flavoring and is probably the best spiced kabob I have had. The beef I didn't really get to try. I give his dish a 6.5 though the rice was excellent.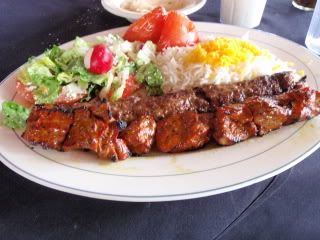 I ordered the Chennjah Sotani skewer of lamb and the skewer of beef kubideh. The lamb was extremely good and I could have eaten 5 or 6 kabobs. I was extremely impressed with how flavorful and tender the meat was. The beef kubideh was essentially very finely ground beef. It tasted basically like eating hamburger and I wasn't super excited about it. It also didn't have the spice that the other two did. I give my dish a 7 overall.
We asked if they had any good desserts and the waiter suggested 'walnut cake'. It's really carrot cake. See the little carrot on our actual slice. It was terrible, not fresh and not very appetizing. There were no walnuts either, it was pecans. The dessert was very bad and you could get a better slice from a premade cake at Walmart I give it a 4.
Conclusion
This is a pick your poison sort of place. If you enjoy nice scenery the porch is a great place to just relax on a Sunday. You can also get a hookah and smoke it as well if you so desire. If you like kabobs and want a light meal then this is somewhere you should try. If you are looking for value and/or good hummus then I suggest you go somewhere else.
Ambiance: Great porch area, relaxing and has a nice fountain 7
Food: The lamb kabob is extremely good and the bread is to die for 6.5
Food:$$$
Overall: 6.5 (Just not a great value at the end of the day)
Bijan Persian Grill
5922 Hillcroft St
Houston, TX 77036
(832) 242-5959