I was excited about going to the Lemon Tree. Peruvian restaurants aren't your run of the mill fare in the Houston area. The menu seemed unique and just daring enough to try. We would definitely be scoping it out.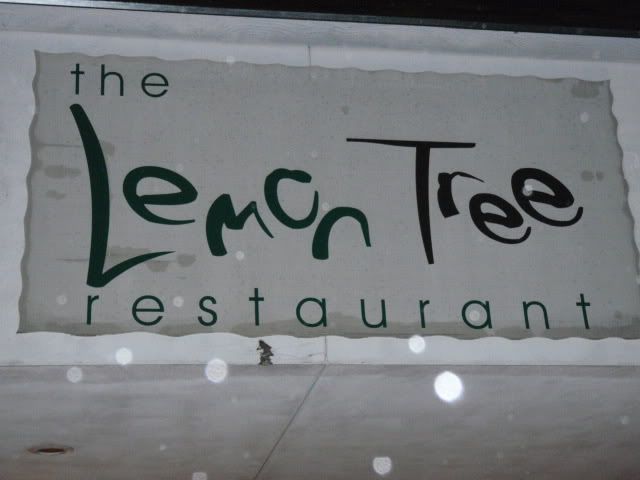 The ambiance of the restaurant is nothing special. The walls are minimally decorated and the tables are standard. The lightning is nicely done.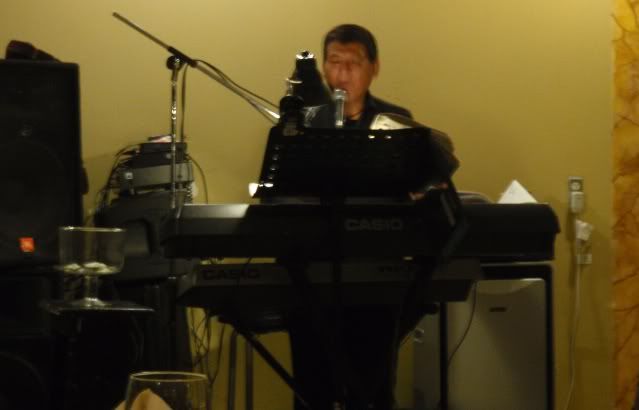 There was a musician playing which is always fun and made the atmosphere bubbly and cheery. I had a good time. Though I'm not so sure about the "When the Saints Go Marching In" cover. He rocked out though... respect.

The first thing you have to mention about the Lemon Tree is the unique beverages they offer. Several beverages from Peru are available and so David and I set out to each try one. I chose the Inca Kola and David chose Purple Corn Drink. Houston what you know about Purple Drank!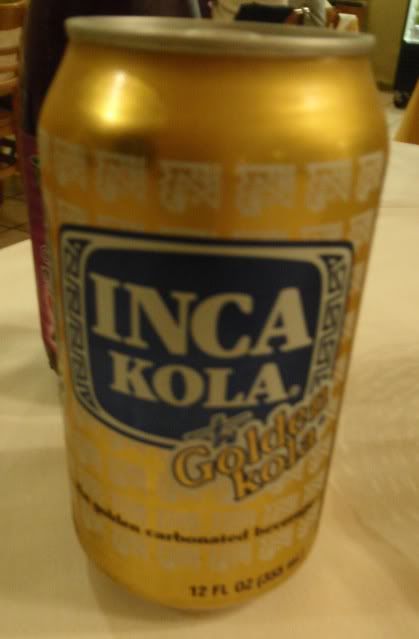 Inca Kola tastes alot like Cream Soda Dum Dums or Big red without the bite. It's VERY sweet. I love Cream Soda and so I sipped it enjoyingly throughout the meal.

Purple Corn Drink to me tasted like carbonated barbecue sauce or a really watered down weird tasting cranberry drink. Not good at all. If you head over to Lemon Tree don't try it.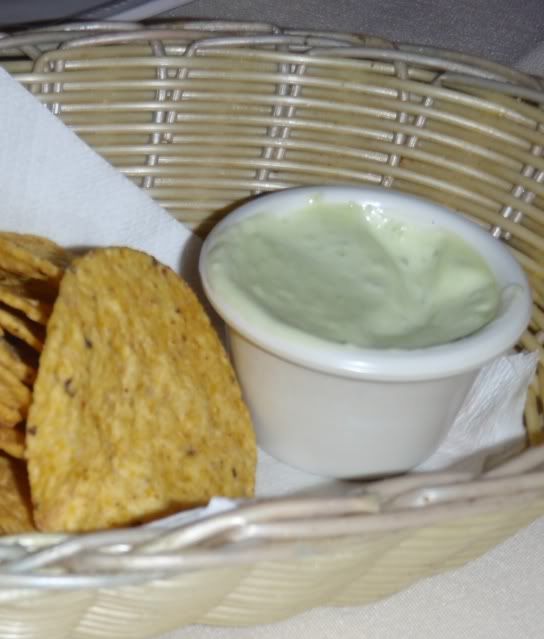 Upon sitting down we were greeted with chips and salsa. I was disappointed that the chips resembled the cheap bagged chips you get at the store, but after trying the salsa I see why they use them. The salsa is literally hands down the best sauce I have ever paired with tortilla chips. It is creamy and yet light with a hint of avocado and perhaps parsley, and then has a great kick to it after a few seconds of placing it in your mouth. We quickly went through two baskets. I have to rate the salsa a 9 because I have never had better and I have MANY salsas in my day.

After having the chips we went with waiter recommendations for entrees and chose the Ceviche Mixto and Lomo Saltado (medium rare).


For those of you unfamiliar with ceviche it's a dish consisting of raw or very lightly cooked seafood with fresh vegetables (most often corn, onions, tomatoes, etc.) and marinated in lime or lemon juice. Think light seafood salad. Here is Lemon Trees description of my exact dish:


Raw fish, shrimp, mussles and calamari with onions, cooked with lemon juice and served with corn and sweet potato.


The ceviche came out and was well put together, but the spice and flavor profile just was not complex enough for me (which is disappointing because the sauce is so spicy and so flavorful). The lemon took over the dish and the parsley was there, but the spice was all but missing. The seafood was really fresh and really good quality which I appreciated. The corn was fresh and seemed to have come right off the cob. Overall, it was a good dish and I give it a 6.5 for being well done but not memorable.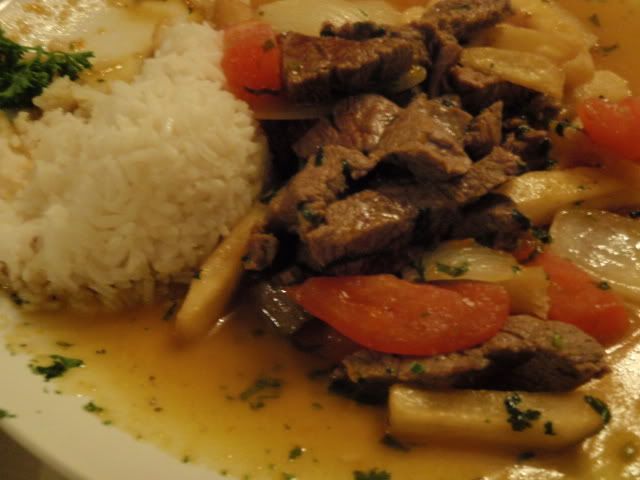 David ordered the Loma Saltado. Here is the restaurants description:


Pieces of Tenderloin sauteed with onions and tomatoes, served with fries and white rice.


There are few things that in my opinion are a culinary sin and shouldn't be allowed. One of those is advertising a certain cut of meat and presenting something completely different.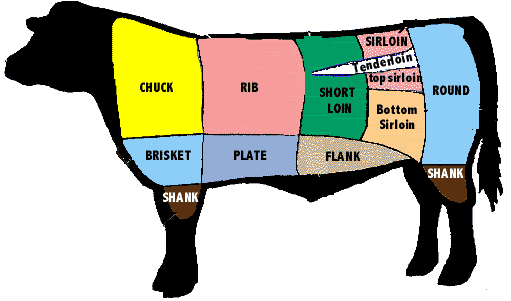 Folks, here's the beef. Tenderloin is located at the top of the cow and is the meat that goes along the backbone and is extremely tender, rare and one of the most expensive cuts of meat you can buy. Skirt steak is gathered from the flank of the cow and is one of the cheapest cuts of meat in the butchers repertoire.

Why am I pointing this out? Because our "tenderloin" was inside skirt steak. I could tell not only by the meat composition and look, but also by the fact that it was brined to make tender and sliced rather thinly (which you have to do with skirt steak in order to make it tender). You would not use these techniques with tenderloin EVER. On top of all that it was cooked medium well. I did like how the fries were set under the meat and allowed to soak in some of the sauce and juice. The sauce though overall was lacking and had no flavor complexity. I give this dish a 3 for promising a $15+ per pound cut of tenderloin and replacing it with $5 per pound cut of inside skirt steak. I would NEVER EVER order this dish.

In hopes of saving the meal we ordered dessert. We went with the traditional Tres Leches and a dessert made with Lucuma: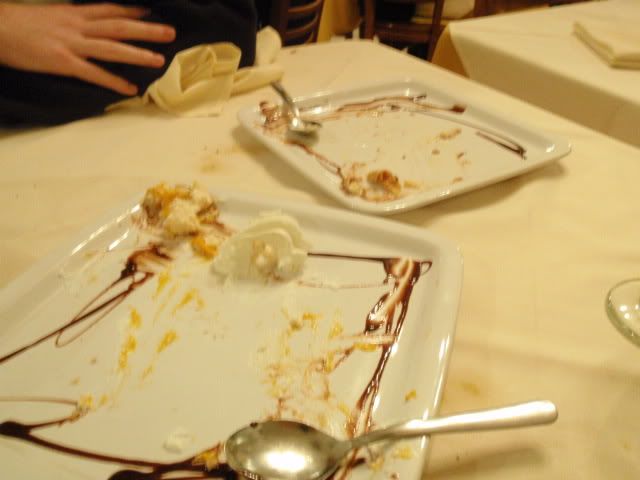 Whoops. Forgot to take pics so let me go over each in detail. They were that good.

The tres leches was excellent and probably the best or second best tres leches I have ever had. It was sweet, but not too sweet and presented beautifully (again my bad for not taking pics). The cake was towered by two chocolate sticks over the dessert and chocolate sauce beautifully decorated the plate. An A+ presentation and A+ taste. I give this dessert a 9.

The Lumuna cake in style and look very much resembled a meringue pie and had a cinnamon biscotti sticking out the top of it. It had a fresh sweet taste and the crust had a hint of cinnamon and crumbled in your mouth to reveal sparks of sweet sugar. It was presented just as beautifully as the tres leches. An A+ presentation and an A for taste. I give this dessert an 8.5.



Conclusion


The beginning and end of the meal were excellent and got me excited about the entrees. Unfortunately one of the entrees was extremely poor. If you decide to grab entrees (and I must admit some of the other dishes looked excellent) then go with the seafood as it seems to be the focus of the restaurant.

The Lemon Tree is bring your own booze and my suggestion: grab a bottle of wine surprise a date and go for dessert while listening to the music. You'll both have a blast.

Price: $$$
Overall Rating: 6 out of 10
Ambiance: Modestly minimal

The Lemon Tree
Restaurant
12591 Whittington Dr
Houston TX 77077

http://www.thelemontreeonline.com/