Once you do something three times it becomes a tradition and deserves a moniker. Therefore, today became the third and yet technically first Smokin' Sunday. As we like to say smokin' sunday is the best day. What does it entail? Going to a new restaurant, smokin' hookah, and watching a new movie.
So today we started out going over to Dairy Ashford to try out the Lemon Tree looking for some good south american food. Unfortunately, they closed at 4. So we went with plan B and used the beamer to come up with an alternative. That led us to George's Pastaria and Devine.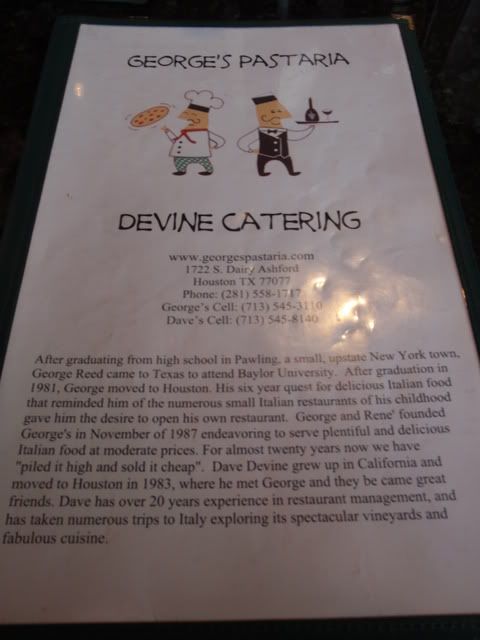 The thing I love about independent restaurants is that they are completely unique and very often you get to hear the story of how they got started (from the website):
After graduating from high school in Pawling, a small, upstate New York town, George Reed came to Texas to attend Baylor University. After graduation in 1981, George moved to Houston. His six year quest for delicious Italian food that reminded him of the numerous small Italian restaurants of his childhood gave him the desire to open his own restaurant.

George and Rene' founded George's in November of 1987 endeavoring to serve plentiful and delicious Italian food at moderate prices. For over seventeen years now we have "piled it high and sold it cheap".

Dave Devine grew up in California and moved to Houston in 1983. After arriving in Houston, Dave met George and they became good friends. Dave has over 20 years experience in the restaurant business. Throughout the years, Dave has taken numerous trips to Italy exploring their great wine tours and fabulous cuisines.
Upon sitting down you are greeted by a plate of hot of the press garlic bread. It's straight of the oven and you get as much as you want. We decided to get two dishes and an appetizer and split it between us.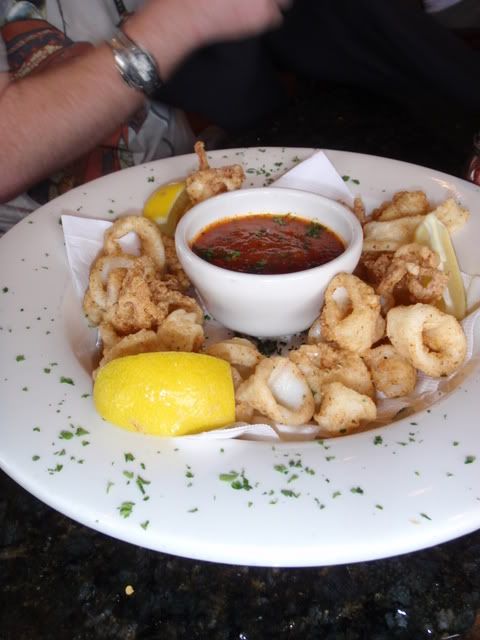 The calamari was excellent and I can honestly say that I have had it better at only two places in my life. The breading was light and the meat wasn't overly fried leaving it crisp. The marinara sauce accompanying the calamari was excellent consisting of fresh tomatoes, basil, oregano, a little garlic, and small chunks of meat. Really well balanced and delicious.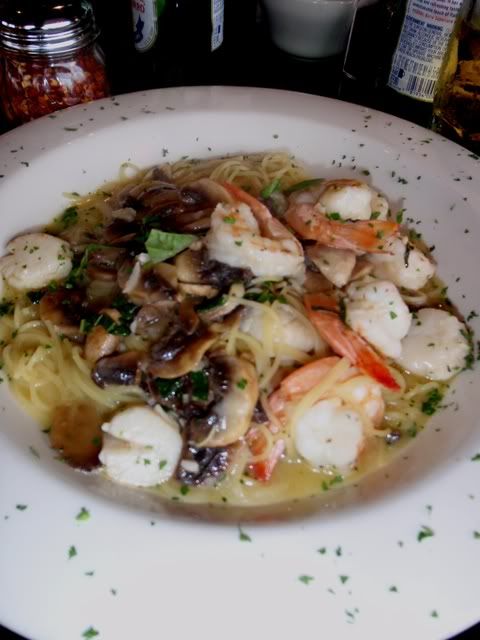 My entree of choice was the Seafood Maximo. It is described as such:
Fresh shrimp, scallops with mushrooms and scallions in a white wine butter garlic sauce, served over imported angel hair pasta.
I will tell you that often white wine butter sauces are too heavy. The purpose of the wine is to counteract the heavyness of the butter and smooth out the sauce. This is rarely done well (generally the white wine isn't allowed to reduce and the sauce to meld well or the butter can burn and become too nutty in flavor) The sauce was made extremely well and didn't overpower the dish at all letting the seafood do it's thing.
David had the Rigatone Campagnolo described as such:
Imported penne' pasta with mild Italian sausage and peppers in a tomato-ricotta sauce, garnished with goat cheese and fresh basil.
Goat cheese is such a great flavor and really added value to the dish. At times the Green Bell Pepper could be overpowering, but the sausage was really delicious in the meal and it all melded together nicely. Often these dishes are really buttery and this wasn't the case here at all. The sauce had been handmade and really allowed to simmer and meld together. You could tell this wasn't an out of the can sauce (see Olive Garden). I was very impressed at the quality.
We both had a Peroni with the meal which is an excellent Italian Beer that I highly recommend. It has a great flavor and depth to it. Overall I would recommend this restaurant. It's a little pricey, but the food is very well made and the owners are present giving it a certain homeliness. This place has alot of regulars and makes the place really fun to be around.
Cost: $$$ (3 out of 5)
Taste: 7 out of 10
Ambiance: Family style restaurant open kitchen
If you want to check it out:
George's Pastaria and Devine
722 S. Dairy Ashford Houston TX, 77077
Phone: (281) 558-1717
http://www.georgespastaria.com/