Seeing as we had hit most of the continents I decided that we must find a place that served African food. Compared to Asian, Mexican and South American, African cuisine is very underrepresented in the Houston area.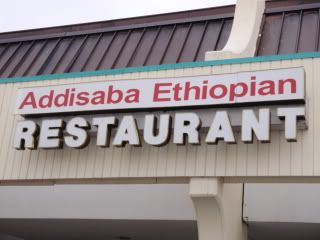 Addisaba is located just off the corner of Bellaire and Fondren (an area most known for its Asian cuisine). The restaurant sits inside a shopping mall and looks very plain. To be honest, upon seeing the outside we didn't have very high hopes for the food.
Upon entering the room is very modestly decorated and the small dining room opens up to a very large club like area. The curtain was almost fully closed and the lights were all off so we didn't get a good look at the club. The restaurant was filled with native Ethiopians and I believe that we were the only group speaking English. I was now excited, because I have discovered that generally when you go to an establishment occupied by locals of that country the food is very authentic.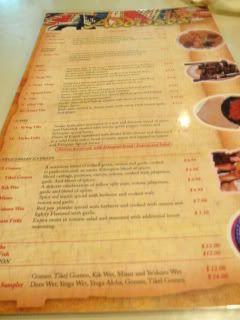 We sit down and realize that the table includes napkins, but not silverware. We are going to be eating with our hands. This is awesome. The waitress was a very cute Ethiopian woman who spoke very poor English, but smiled alot. The menus were suprisingly well done and explained each dish extremely well. Our roomate Gary had accompanied us and so we decided to order different meats and try some of each. David had chicken, Gary ordered beef, and I was planning on ordering lamb. I asked the waitress which one was better and she urged me to get a particular beef dish. I agreed since she promised it would be spicy and it's probably that area of my pallet I am working most on right now.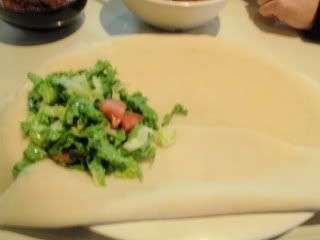 Prior to our food arriving we are given what looks like a giant plate with a salad on top. Upon further inspections it's actually a giant soft sourdough like bread. When eating Ethiopian food you place pieces of meat (served family style) onto a spot on your bread plate and eat it. This novel concept alone made the dining experience worth trying as I have never done anything remotely close to this.
The dishes we ordered are as follows:
David- Ye'doro Wet- spiced curry butter, onion, garlic, and boiled eggs
Gary- Yes'ga alicha- beef chunk, mild curry laced in Ethiopian spices, potatoes, vegetables
Kevin- Awaze Tibs- beef cubes, awaze sauce, onion, tomato, garlic, and ginger
All of these dishes were very stew like in that the meat appeared to have been cooked in the relative sauces. This leads the meat to be extremely tender and also inherit alot of the flavor in the dish.
David's dish was almost Indian like in nature. The curry had a eastern spice to it and the flavor danced on your tongue. It reminded alot of Indian cuisine without the yogurt flavor mixed in with the curry. It was the smallest of the entrees and so I only had a little bit. His sauce had the texture of a curry paste. It was a decent dish overall and I give it a 7.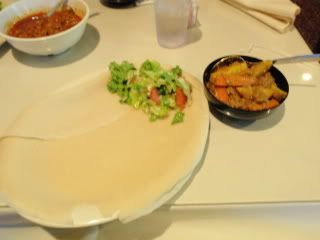 Gary's dish reminded me of roast. Though the spices and flavor made it unique. The dish had a very mild sweetness that brought out the flavor of the vegetables very nicely. It was very hearty and at the same time felt very healthy. His sauce was very gravy like. I gave his dish a 7.5.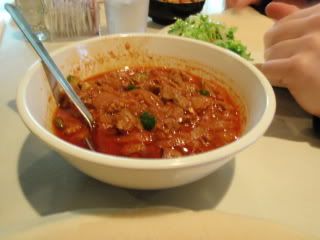 I liked my dish the best and I think most people at the table did as well. The onion, tomato, garlic, and ginger were stewed with the dish for an extremely long time. The dish wasn't near as spicy as advertised, but had enough to lend some flavor. The sauce was made from the juice of the meat as well as the tomato juice and allowed to cook for a long time. The flavors were melded together nicely and the food was hearty and at the same time felt light. I would order this dish again in a second. I give it an 8.
Conclusion
If culinary adventure is one of your hobbies or something that you enjoy doing then eat here. You are in for a dining experience unlike one you have ever had before. The food is relatively "safe" in terms of flavors, but the presentation and atmosphere is something that lends itself to adventure. I wouldn't bring a date here that you are trying to impress as the decor is severely lacking and definitely not set to impress. If the girl though loves trying new things (one of my musts with any date) then take her here and have fun.
Addisabba Ethiopian Restaurant
7668 De Moss Dr
Houston, TX‎
(713) 995-0333‎
Ambiance: Almost non existent 5
Food: Very good and native approved 7.5
Value: Excellent 8.5
Cost: $$
Overall: 8 (uniqueness is worth at least a point)